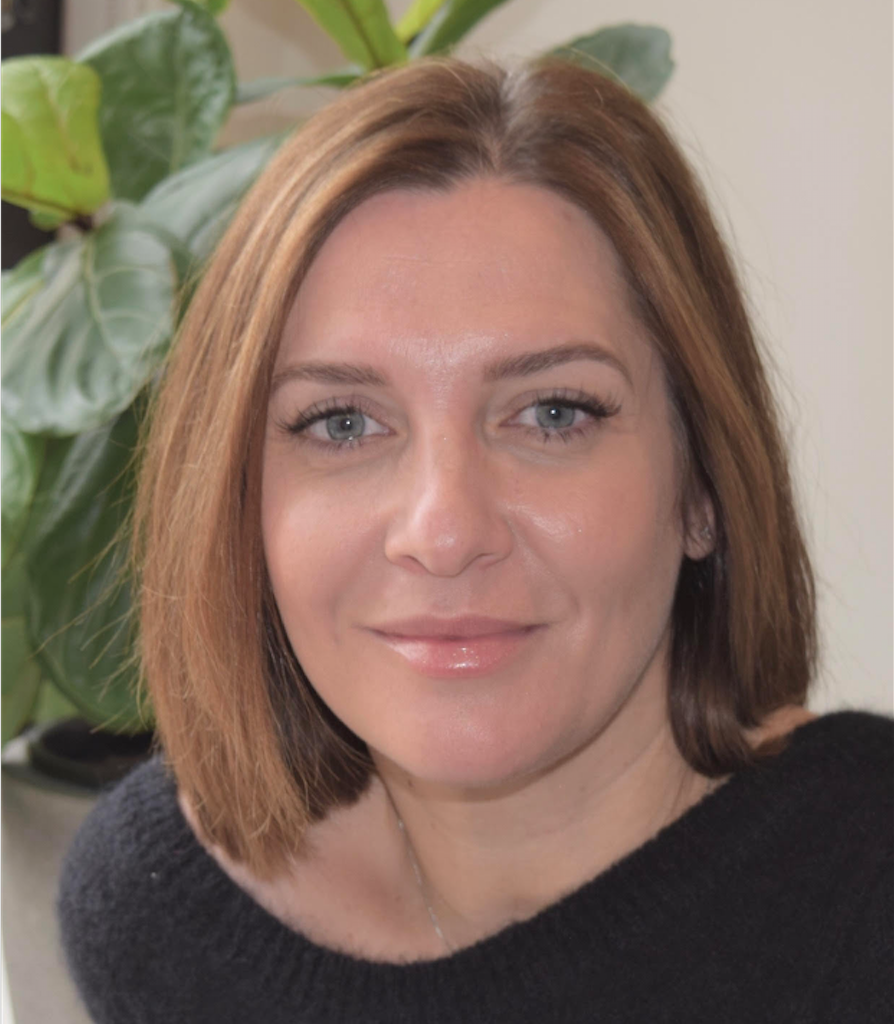 Anna Troise – Owner/Director of Blend Design.
About Anna –
Anna started her journey with design in 1993. She pursued a degree in structural engineering right here in Melbourne. Throughout her life, her roles and career direction have evolved and changed. Technology, further studies, and personal discovery haveplayed a key part of her direction towards interior styling and design.
Three years ago, Anna purchased the 20-year-old company Blend Design. She has evolved the business into a design and styling centre that is known for its expertise and personal touches. She brings a sense of home and luxury to every space.
Due to her history in engineering she not only understands interior design, but also has a keen eye for utilisation of space. Her niche is in how to utilise space to its full potential with smart styling and design. At the forefront of her business model is making a difference to people's lives.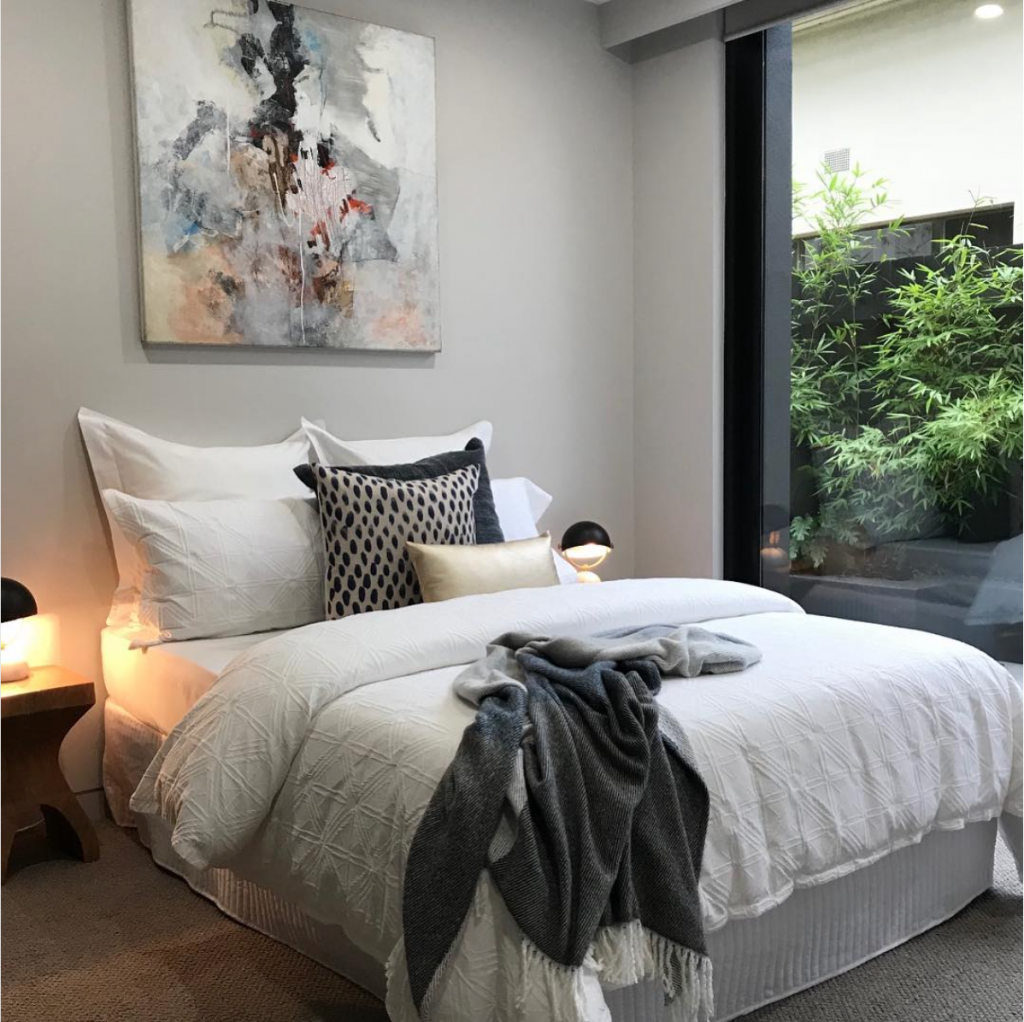 Bedroom styled and curated by Blend Design Melbourne. Image credit sourced from @blend_design via Instagram
We take five with Anna this week and chat all things downsizing. Why, how and the benefits to be had once people let go of the perception of "bigger is better".
Why would you recommend to your clients that they declutter and downsize?
When a room or home is cluttered with years of collectables, excess furniture and junk they have been holding on to (referring to older people that have grown a family and now are empty nesters), it can make them stifled or suffocated. I see it all the time, especially when people are selling to downsize. Often people struggle with what to do with their years of collectables.
Decluttering your home makes it not only look presentable but can also allow you to reorganise and utilise your space in different ways. For example, that junk room can now become a sewing room, office, or a formal sitting room to entertain friends.
But let's go back to "downsizing", lots of people downsize for different reasons.
Empty nesters downsize because they live in a large house 10-15 km away from the CBD and have opted for a lifestyle that is closer to amenities such as museums, theatres, trendy cafes, restaurants and beaches.
First home buyers may prefer to live close to work, also near amenities and want to cut costs and time for travel.
The parent who has bought a small apartment close to the city because their child has moved closer to university and the parent doesn't want them to be burdened with paying rent for 4 years.
In all of the above cases, it makes sense to not bring your clutter along with you
How should someone start the decluttering stage?
Books! In almost 90% of the homes I walk into and see every day, the number of books that they have lying around or in shelves is overwhelming. These people are keeping IKEA in business, simply by purchasing yet another BILLY bookcase. Do yourself a favour and get some boxes, fill them up and take them to the Salvos or donate them to your local library. Once you do this, you will feel more liberated, free and happier.
How do they determine what stays and what goes?
Well, that depends on lifestyle and what's most important to them when moving to another home. Most people keep the least important things in their office or study, roof storage, wardrobes and closets (paperwork, bills books, old magazines, clothes that don't fit or aren't used and items that are rarely used) and believe it or not, the most important things to them are displayed or kept in their living space.
How to declutter ethically and responsibly?
As I touched on above, rather than filling up a Skip bin, donate or give away as much as possible. Possibly to family members, libraries, charities, second hand stores and even schools. Some suburbs have recycling depots. There you can dispose of larger items such as furniture and electrical items carefully and safely. Some councils offer hard waste collection services which most people are aware of.
How do you design without sacrificing style?
Well, when you are downsizing to a smaller space, you can spend more on the things you like. Think about it. Your old home had larger rooms you needed to fill. Most people sacrifice style for functionality based on necessity. For instance, if their children are little a modular sofa has to be big enough to accommodate the masses, as well as fill up the room.
When designing for a smaller space, you can fit less furniture and therefore can spend more. It's important to think about your space and plan for it. Take a floor plan with you to the stores when you are selecting furniture, draw up a floor plan and map it out different ways. An Interior decorator/stylist can help with spatial planning for your new home. Look for clever storage solutions that are functional but look stylish and are well made, something preferably that doesn't require an Allen key to put together.
Most modern apartments are designed with maximising the availability of light and therefore will have more windows and less wall space, so where there is a wall, make a statement by finding some amazing artwork that will be the focal point of your room. If you have an heirloom that is a special piece you want to take along, give it some love and take it to an upholstererto refresh the look with some new fabric and colour. I love pairing an heirloom dining table with some edgy modern new chairs. Make it personal. Downsizing and moving into a new space is an opportunity for your personality to shine, for you to splurge on that piece of furniture or artwork that you have always wanted.
xx – Anna Trois from Blend Design
If you would like to find out more about Anna and her team at Blend Design Click Here
or call 0419 880 950.