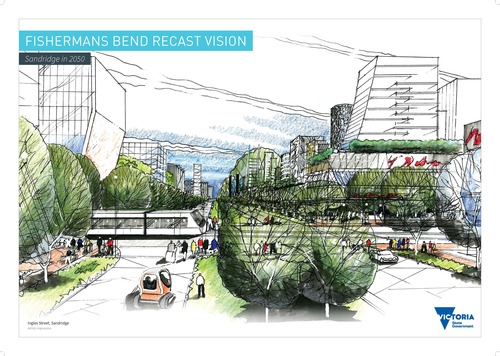 Decisions in life no matter how small impact your lifestyle. Small decisions, such as getting that super cool shirt that fits your desired look and your budget or even wanting to try out that new coffee shop down the street from your office play an important role in maintaining that quality of life you are after.
If all the cards fall right into place, this might even apply to big decisions in your life too, like choosing the right place to settle down. Choosing a new place might seem daunting but it need not be so at all.
Australia's largest urban renewal project, Fishermans Bend makes the decision easy for you. Covering approximately 480 hectares spanning two municipalities, the cities of Melbourne and Port Phillip, it is expected to accommodate 80,000 new residents and 80,000 new jobs. Located a mere one kilometer southwest of Melbourne's central business district, Fishermans Bend offers access to employment and amenities as well as proximity to the centre of the city which are considerations that are becoming more popular than ever as the population continues to increase.
Fishermans Bend responds to the needs and demands for an incredibly desirable village lifestyle in an urban setting. It is designed to have a walk score of 90 or greater, which means you won't need a car to run your daily errands, thus decreasing your carbon footprint in the process. You can avail of all the comforts and necessities with just a few steps.
Fishermans Bend will also offer a rich, energetic, and vibrant atmosphere which is revitalising. Natural environments with large open green landscapes are being developed for recreation and entertainment, and state-of-the-art amenities are being built for convenience. Moreover, the new University of Melbourne campus is also set to open in 2021, making Fishermans Bend a prime location for university students.
This exciting area offers a wide range of living options to choose from. Fishermans Bend is the ideal place to live your life to the fullest. Whether you're a young working professional looking for your first place to call your own or a seasoned professional wanting to settle down, Fishermans Bend is a community that welcomes you with a sense of belonging.