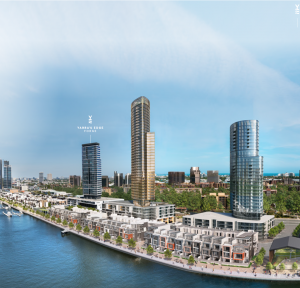 With the City of Melbourne's forecast which is expected to grow by 100,000 new residents each year and speculated to be Australia's largest city by 2050, pressures are mounting to answer the demand for affordable housing in close proximity to Melbourne's CBD.
Fishermans Bend, with over 450 hectares of land located adjacent to Melbourne's CBD, presents a solution by being an apartment supply line to answer that demand. Currently Australia's biggest urban renewal project, Fisherman's Bend is set to accommodate a growing population whilst providing its residents access to employment and quality amenities, as well as proximity to the centre of the city.
Fishermans Bend will answer to the need for desirable village lifestyle in an urban setting, where residents can enjoyably live, work, learn and invest.
Fishermans Bend apartments offer a taste of Melbourne culture and lifestyle right at your doorstep with access to extensive transport options and cultural options. You can choose to relish in the delights the entertainment precinct offers and enjoy the bustling South Wharf and Southbank. You can also indulge your senses in the city's award-winning restaurants, giving you a sampling of various local and international cuisines.
During fine, warm days, you can stroll right up to the Port Melbourne Beach within minutes and bask in the sun and vibrancy. Walk to the historic South Melbourne Market and choose from an abundance of fresh produce for your kitchen.
At present, there are a number of projects within Fishermans Bend that offer you generous apartment frontages and revitalised laneways. You can find your sanctuary in lush central courtyards where every detail blends elegance and practicality, designed to give you an oasis for your urban lifestyle.
Choosing Fishermans Bend as your home is not only a good choice but also a smart choice. Families have plenty of options for the education of the kids, whilst parents can get numerous job opportunities nearby. Young professionals can thrive as well, finding their niche in a community as welcoming as Fishermans Bend.
Fishermans Bend is well on its way to be the global benchmark for city livability, and you shouldn't waste your chance to call this place your own.